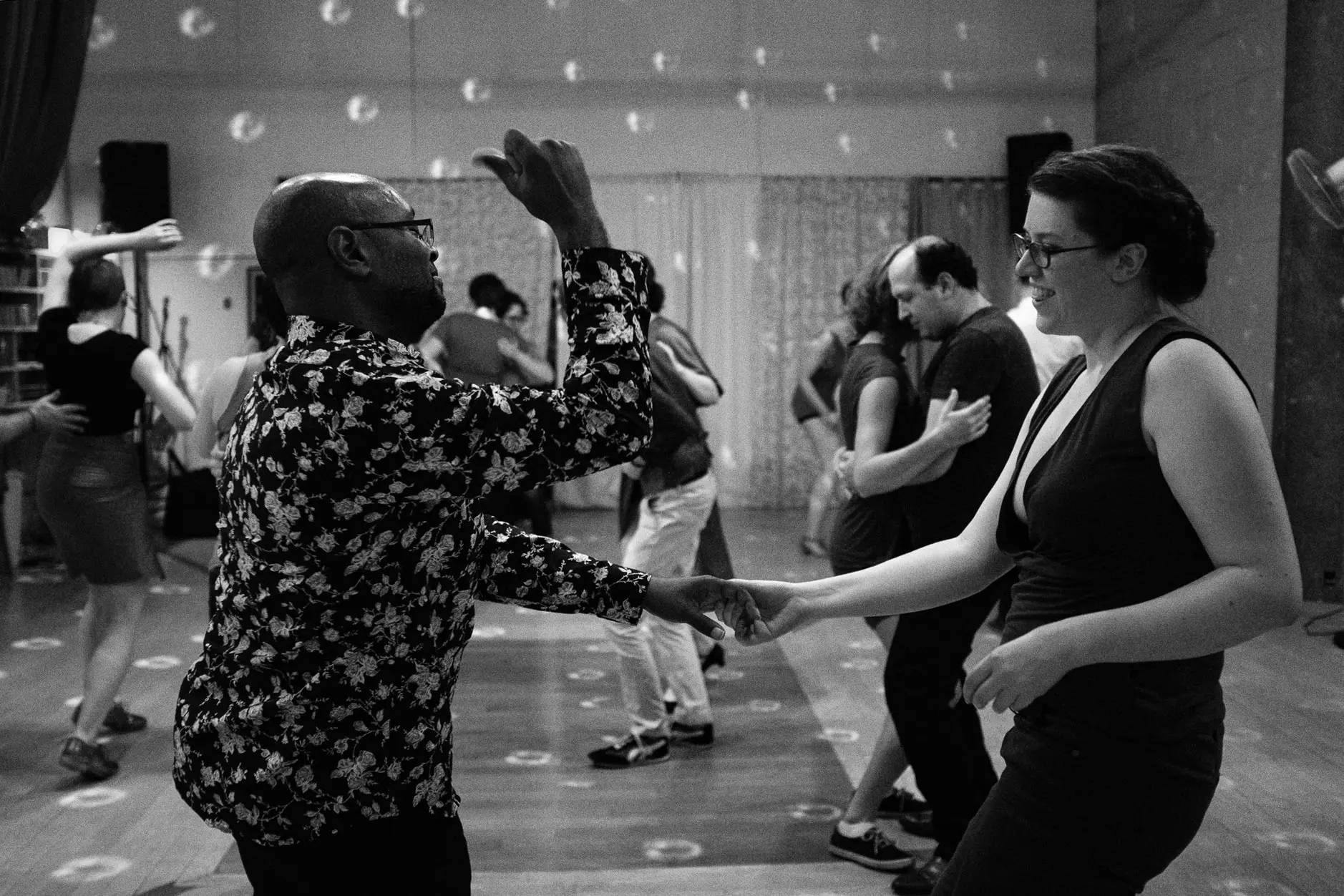 Lindy's House
Thursday night house party
There is plenty of free street parking. The floors are hardwood and I ask that you change into clean, indoor-only shoes when you arrive and please be considerate about choosing shoes that won't damage the floors. You are also welcome to dance in socks. This house has a dog and cats so be sure to take your allergy meds, if needed.
646 Cherokee Ave, St Paul, MN 55107
Friday, Saturday, and Sunday nights
The entrance is in the historic cobblestone alley. Parking here can be a little tricky — there are some metered spaces around the venue and some free parking north on 16th Street and Laurel Ave — just pay attention to the signage. You can also pay to park in the 1500-1598 Hennepin Ave Garage which you enter from Laurel Ave. Please bring clean indoor shoes to change into at this venue or plan to wear socks so we keep the nice hardwood floors in good condition.
1637 Hennepin Ave, Minneapolis, MN 55403
Saturday afternoon
Multi-purpose hall with great food options, jewelry/art/gifts from different world cultures, a dance floor, and even a brewery. There's a paid parking ramp next door, the market will validate 1 hour of parking. We will have a live band and a dance floor cleared in front of them — the floor is smooth cement/glass blocks and is in a public area. Feel free to wear street shoes. Also feel free to bring non-dancer friends to hang out!
920 E Lake St, Minneapolis, MN 55407
Sunday afternoon
This year we're excited to introduce a new North Star venue! Golden Thyme is a Black-owned coffee shop and cafe. The floors are polished cement, feel free to wear street shoes. We are renting out Golden Thyme and ONLY attendees with wristbands will be allowed in (no at the door sales). There will be an all you can eat breakfast buffet including coffee, tea, and a variety of fresh cooked food which will cost $20 paid to the venue. There is plenty of free street parking on Selby Ave or nearby cross streets. And as a bonus don't miss Two Scoops Eatery, a Black-owned ice cream shop right across the street.
934 Selby Ave, St Paul, MN 55104
Friday daytime — the fair is also happening Monday, but without an organized group of dancers going.
Join Stephanie and NSB at the Minnesota State Fair on Friday! We'd love to show off the pride of Minnesota in all of its extravagant food and farm animal glory. There's so much to eat and do and see! It's the largest state fair in the United States by average daily attendance, and has around 300 food vendors. See the schedule for more info. Here are links to tickets and transportation info. There's also a web app that works offline once you've loaded it for when you're at the fair.
Other Stuff
Here's a map with all the venues and a bunch of great places to eat!