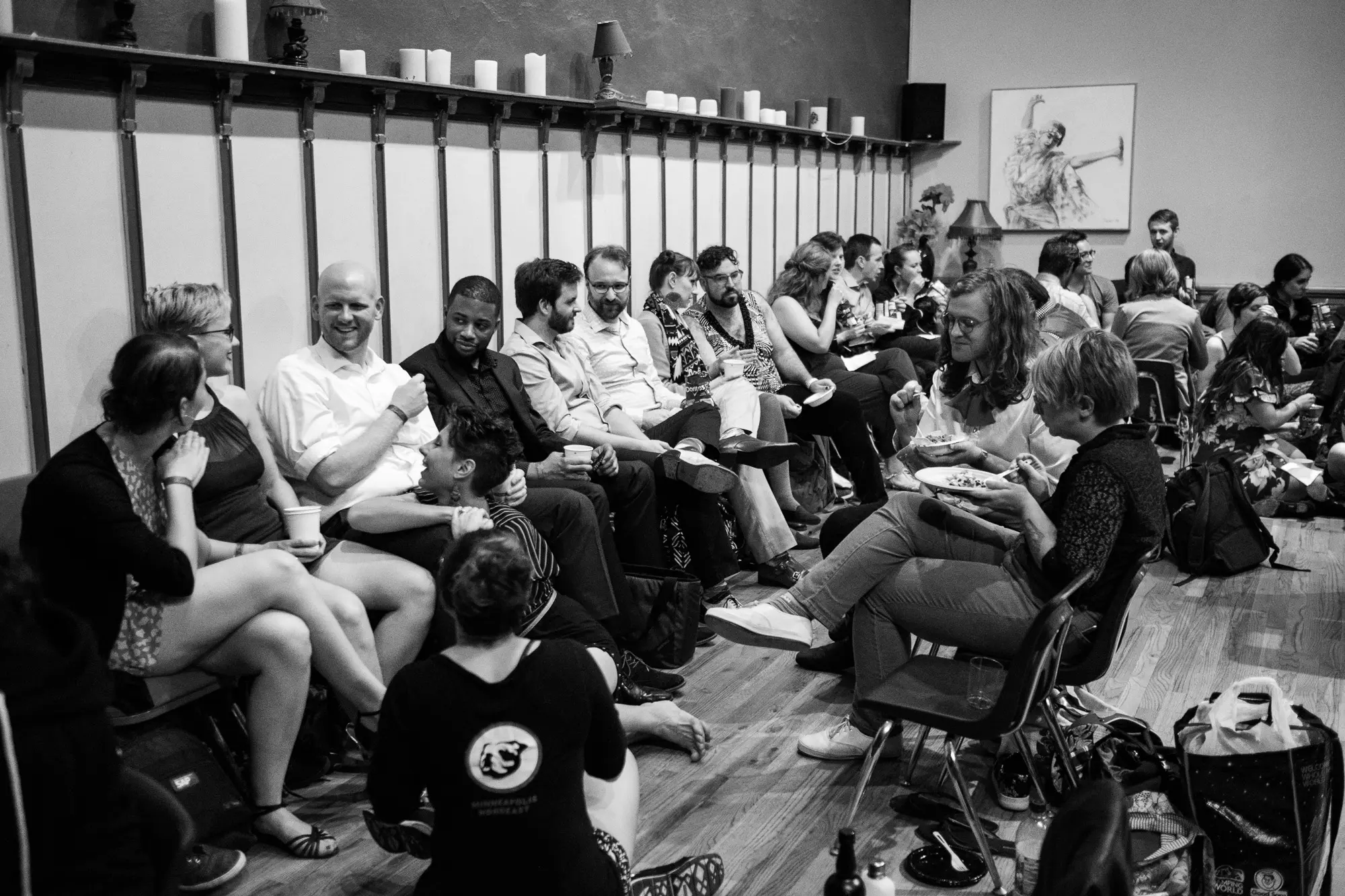 Code of Conduct
Anonymous Reporting Google Form
email collectivelybluesaferspaces@gmail.com
Full Collectively Blue Safer Spaces Policy
De-escalation Resources
The Collectively Blue Code of Conduct is expected to be followed by all attendees and will be enforced at all events. We recommend you review the Code of Conduct.
We will not tolerate harassment of any kind, including but not limited to sexual harassment, verbal abuse, assault, racism, sexism, homophobia, transphobia, classism, ageism, ableism, or defamation of character. Any person found acting in a way that violates these values will be asked to stop and/or may be ejected from the event. In the case of a major offense (as defined in the policy) a person may be banned from attendance at future events for a period of time.
We acknowledge that Safer Spaces policies have historically prioritised white women to the detriment of Black dancers and other dancers of color, which is particularly problematic given that Blues is a Black American dance. We commit to celebrate black voices in our community and to amplify our belief that Black Lives Matter. Anyone who shares those goals with us is welcome in the space. If you are still learning about the Black Lives Matter movement — and all non-Black attendees are assumed to be still learning about the Black Lives Matter movement — we ask that you use this event as a place to keep your mind open, listen with empathy, and let your dancing and your presence become a stepping stone in supporting this urgent message. Racism will not be tolerated at this event. If you experience racist behaviour please get in touch with safer spaces immediately.
Covid
North Star Blues COVID policy is that you must be vaccinated. As many factors affect individual vaccine recommendations, we will consider you to be vaccinated for this event if you have documentation of having BOTH an initial vaccine series plus a booster given between September 1st, 2022 and August 15th 2023. It is likely that another booster will be issued August/September 2023 but given the timing of North Star we expect it will not be possible to require it. Masks will be welcome but not required. N95s will be available for free at the door. At the time of the event, if you are experiencing symptoms of communicable illness you will not be allowed to attend and we will issue you a full refund for your registration. We will email you to request documentation of your vaccination after you register to streamline the sign-in process at the door.
We hope not to, but we reserve the right to increase COVID precautions (for example, making masks required) if there is new information or a changing situation between now and September. We will not reduce precautions.
Risk/precaution statement you must agree to in order to register: I understand that by attending a dance event that there is a possibility that I could contract COVID-19 or another illness and I will not hold event organizers or Collectively Blue LLC responsible if this occurs. I understand that in the portions of North Star held in public places that the event organizers cannot guarantee that all people in the venue are vaccinated. I will not attend North Star if I have reason to believe I have an illness I could pass to other attendees. I confirm the information about my vaccination status provided here is true. If I contract COVID in August 2023, I will use CDC guidelines to determine if I have recovered sufficiently to attend North Star and will wear a high quality mask (KN95 or N95) if masking is recommended for my situation. I will provide documentation of my vaccinations via email before the event.